"What I have to say is all in the music. If I want to say anything I write a song"
(from: Life Magazine, 1969)
"More often than I can count, I've been asked if I would write an autobiography, but the time has never been right. The one thing I've always managed to do, whether at home or on the road, is to write new songs," McCartney said in a statement. "I know that some people, when they get to a certain age, like to go to a diary to recall day-to-day events from the past, but I have no such notebooks. What I do have are my songs, hundreds of them, which I've learned serve much the same purpose. And these songs span my entire life." (from: 'The Lyrics, A self-portrait in 154 songs', 2021)
With the release of the two volume book 'The Lyrics', Paul McCartney stated that, although he does not want to write an autobiography, this collection of his song lyrics can be used as such, or rather as a "self-portrait". A statement that at least at some points is surprising: the book's 'tracklist' - first published on August 23, 2021 - includes a lot of songs that are dubious as a choice for giving us a revealing portrait of Paul's life. What does Check My Machine or Maxwell's Silver Hammer tell us about the man, or what life events do these lyrics refer to?
When 'The Lyrics' was released in 2021, it became clear that his song lyrics were the foundations for the conversations Paul McCartney had with his editor Paul Muldoon. In their meetings McCartney mostly talked associative. Memories sparked by the songs pop up throughout the book. And although this makes very interesting reading with even some surprises, the book still isn't a real autobiography in song lyrics.
To an extent, this is not surprising. After all, McCartney is most famous for his melodic talents, his musical innovations and the string of hits he produced in over five decades. He is not a composer known for writing autobiographical songs, about his life or real events. And if he does, he uses symbolic images. Although his often great melodies seem to come natural to him, his words do not always match that side of his composing talent, and McCartney is accused more than once of writing whimsical or nonsense lyrics.
But taking a closer look at the canon of songs and the lyrics McCartney wrote, one will discover these accusations are false, at least to an extent. He did write some great poetic songs, and - more importantly regarding the subject of this current issue – he did write about specific times or events in his life. Especially later in his career, he wrote reflective and also introspective lyrics, looking back on early memories from The Beatles and his early youth. Combining these songs including Paul's real life events and his personal reflections can give us the real McCartney musical autobiography that we are still missing.
A small search on the internet for autobiographical McCartney songs results in one forum discussion, a lot of hits for 'The Lyrics' and a lot of guesses or fan interpretations of lyrics. This Maccazine special is about the songs that have lyrics, dealing - obvious or implied - with real events in Paul's life or tell us about his view on events or subjects. It is not about fan interpretations of his song lyrics (with one exception, I must admit).
The conception, the writing and the compiling of this special issue started in early 2021 - well before the first announcement of 'The Lyrics' - and conclusion of the draft, the composition and the printing will be only a few months before Paul McCartney turns 80! What better moment is there than this one. The right time to properly line up all his autobiographical songs, and compile a real Paul McCartney's Autobiographical Songtrack. Where possible I used quotes by Paul to explain the lyrics or song, thus creating a shadow version of his "official" statements in 'The Lyrics'.
The songs are presented like a timeline of McCartney's life, presented in a chronological order for the era-chapters of the events, and not by release date, thus giving a nice insight and overview of Paul's life (and even thereafter!). The chapters are divided in the different eras of the life and times of Paul McCartney: pre Beatles, Beatles, Seventies, Eighties-Nineties, Zeroes and Zeroes until now and even the future.
You might, if you like, make a Spotify playlist and enjoy these three hours of music in this special year Paul McCartney turns 80. You might even play it on June 18, 2022!
Enjoy!
- David Borman - Editor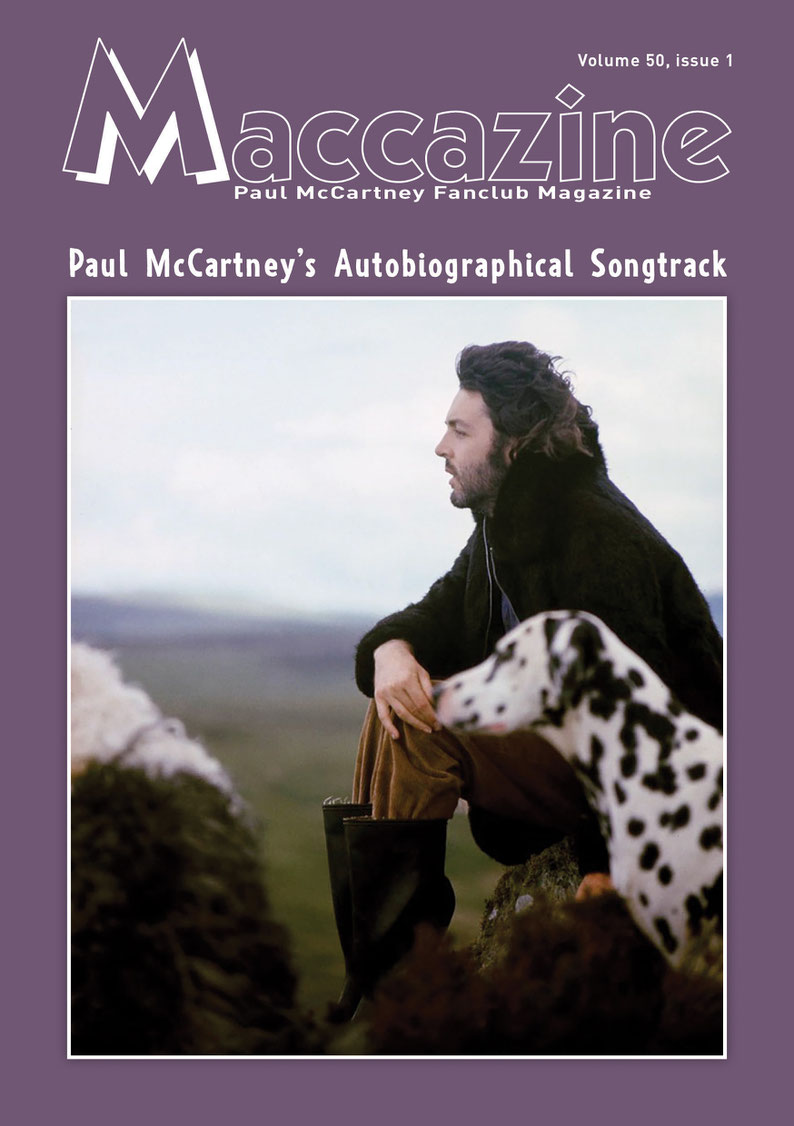 2022 50-1 Paul McCartney's Autobiographical Songtrack
96 pages. full colour. plus minus 320 photo´s. 
Available
Delivery in 5-8 days